Could a new Eco-Block be the answer to rebuilding 200 schools in earthquake-devastated villages across Indonesia? Nikki Stefanoff speaks to the founder of Classroom of Hope to find out.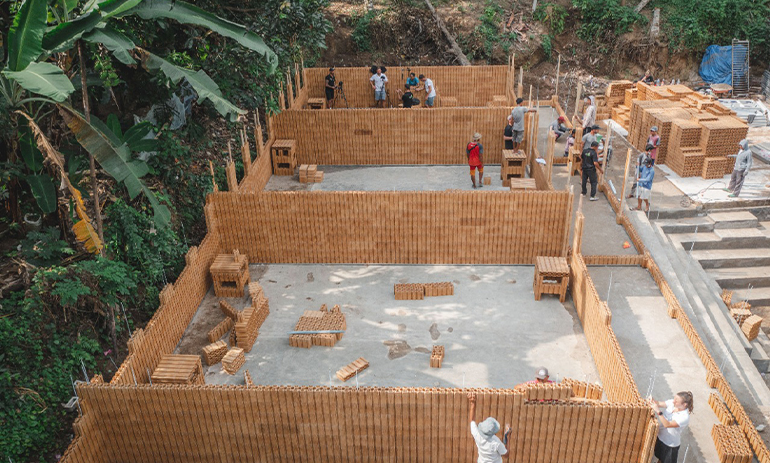 When Duncan Ward from Classroom of Hope appears on my screen from his home in Bali, Indonesia, he's holding what looks like a giant Lego brick.
As he grabs another one and clips them together he tells me that these large beige plastic bricks have been the building blocks for Asia's first recycled plastic "Eco-Block" school – a five-classroom school built in a small, earthquake-devastated village in Lombok, Indonesia.
"It took six days to build the school with these things," Ward says. "It would usually take around three to six months [to build a school] but these blocks are fully interlocking and come in groups of two, four, and eight, which makes things quicker."
The blocks in question are called Eco-Blocks and are created by Finnish company Block Solutions, which created the building material as an affordable solution for building low-income homes across Africa and Asia — all from recycled materials.
The blocks used in the Lombok project were created from 50 per cent recycled plastic waste and 50 per cent leftover wood fibres from Finland's forestry industry.
The journey from Classroom of Hope to Eco-Blocks
Ward, a past Pro Bono Australia Impact 25 winner, was introduced to Eco-Blocks after nearly a decade of work with Classroom of Hope, the not for profit he founded in 2012, which has developed and built 77 schools in Cambodia, Laos and Myanmar.
In 2018, Indonesia was rocked by three major earthquakes which destroyed over 400 schools and left thousands of kids educationally displaced. Ward and the Classroom of Hope team were part of the country's disaster relief program.
"We came up with a temporary pop-up school model that was earthquake-resistant, built 23 of those and got about 4,000 kids back into a learning environment," Ward says.
"However, we know that a child doesn't learn as well if they're in a temporary structure, so the Indonesian government asked if we could build more permanent structures. I had to tell them that we couldn't because bricks and mortar were too high risk in earthquake conditions, which then led me to think about other building alternatives."
Through his research Ward was introduced to Block Solutions.
The lightweight nature of the bricks makes them less likely to cause significant harm in earthquake-prone areas.
"The two major things that are a problem in earthquakes are speed and mass, and because these bricks are very light, you're removing the mass from the equation," he says.
"The plastic in the blocks gives them a level of elasticity that in, say a bad earthquake, if they fall on you there's less likelihood of them causing serious harm."
The company's use of recycled materials also meant that Ward had found his desired sustainable, yet effective, building material, which at the same time helped him to bring down the cost of building new education facilities
"For every classroom we can build with Eco-Blocks, we're also removing two to three tonnes of plastic waste from the environment," Ward says.
"Plus, they're so much cheaper to build with. A standard government classroom in south-east Asia costs on average US$14,000. An Eco-Block classroom costs about US$7,000. Plus, it only takes around five hours to build."
The speed at which Eco-Blocks can be used to build shelters of any kind is also of great benefit to organisations working in disaster relief.
"Block Solutions is already working with UN Habitat," Ward says. "And I'm talking with the Red Cross and various other organisations [about how] Eco-Blocks can be used to quickly build houses, toilets and warehouses if an earthquake were to hit. It's such a super versatile, and sustainable, product." 
Bringing the technology to Indonesia
Shipping the blocks in from Finland seems counterintuitive for an organisation so focused on both people and planet. Ward agrees and it's why they will only build up to 10 schools this way.
His hope is by the end of those projects, an Eco-Block factory will have been built in Indonesia.
With the Classroom of Hope team having ordered enough Eco-Blocks to rebuild eight schools previously destroyed in the earthquake, the clock is ticking on getting that factory up and running.
"We raised the funds to build the first Eco-Block school as a way to show the Indonesian government what could be done with this building material," he says. "They were very impressed and are now pushing us to get a factory up and running."
The plan is to have the factory open by the middle of 2022 and Ward is working with both the Australian and Indonesian governments on raising the investment to help make that dream a reality.
At the moment the only other Block Solutions factories outside of Finland are being built in Africa, the proposed site in Lombok would make it the only factory in Asia.
Next steps for Classroom for Hope
Ward and his team have got a busy time ahead of them. The first item on the agenda is to raise money to train and pay local contractors to build those eight schools, once the blocks arrive.
After that, it's a case of finding the investment needed to build the Indonesian factory.
"Once the factory is built, Classroom of Hope will become a major customer and we'll launch a program to build the additional 200 Lombok schools that were lost in the 2018 earthquake," Ward says.
"My aim is that in five years time, people will look at Indonesia and see how it was able to rebuild. It will also be a great case study for the rest of the archipelago as to what can be achieved, and how plastic waste can be turned into something useful." 
With thanks to Nikki Stefanoff who is a journalist at Pro Bono News covering the social sector.