In Rwanda, women and girls are disproportionately impacted by COVID-19 in many ways, including increased domestic violence, violations of their rights, difficulty accessing health services, clean water, social protection and other basic services. To counter the pandemic's effects on women's economic prospects, UN Women Rwanda has been contributing to the implementation of a national socio-economic recovery plan to mitigate the disastrous effects of COVID-19 on households and especially women, the majority of whom work in the severely hit informal sector.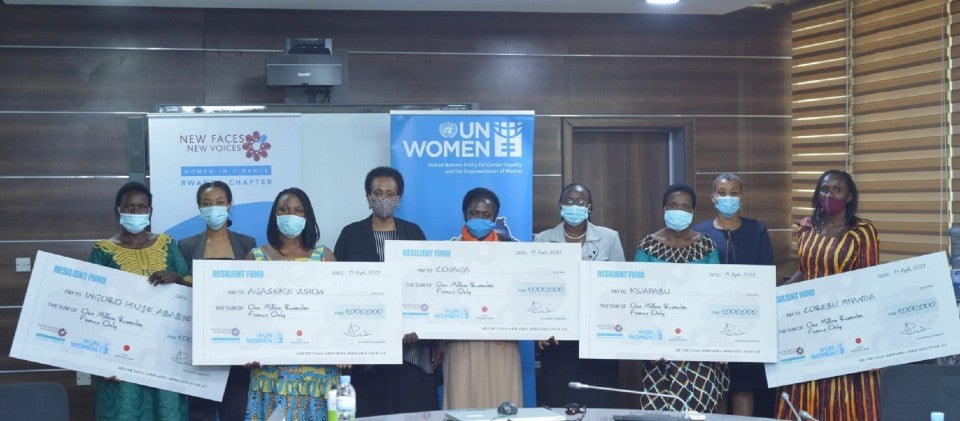 Grants handover to the first beneficiaries. Photo: Courtesy of New Faces New Voices.
In response to the COVID-19 pandemic, UN Women and its implementing partner New Faces New Voices (NFNV) have launched an initiative that aims to provide a small capital to women operating in cooperatives to get back on their feet after being negatively impacted by the pandemic. The amount provided varies between Rwf 500,000 (497 USD) and Rwf 1,000,000 (995 USD).
This activity is part of the Promoting the Leadership, Access, Empowerment and Protection of Women and Girls in COVID-19 crisis project, funded by the Government of Japan.
On Wednesday 14 April 2021, the grants were officially handed over to the first beneficiaries who will now have the necessary capital to purchase raw materials and create new products to be sold on the market. The first women's cooperatives to receive their grant were COREBU MPANDA in Muhanga district, KOAPABU in Ruhango district, COVAGA in Bugesera, AGASEKE VISION in the City of Kigali and INGORO IHUJE ABABYEYI in Huye district. The business activities of the cooperatives include Made in Rwanda handcraft, construction materials, sewing, shoemaking, cross-border trade and agriculture.
The cooperatives have committed to increasing the production of competitive products but raised a concern about access to markets. As a result, NFNV and UN Women have promised to support them in securing new market opportunities. They have been advised to produce high quality and innovative products in order to be competitive. With this support, the beneficiaries should be able to reach a wide range of buyers and recover from the socio-economic consequences of the pandemic.
The initiative will have a direct impact on more than 1,000 members of the cooperatives who will be economically empowered, and able to support their families and invest in their communities. To monitor and evaluate the impact of the grants, quarterly progress reviews will be done by NFNV to track the cooperatives' recovery journeys.
This initiative complements the business clinics started by UN Women in April 2020 in collaboration with the Rwanda Chamber of Women Entrepreneurs and in January 2021 with Inkomoko business development Ltd. with the objective of strengthening the capacity of women-led businesses so that they can remain viable during the economic slowdown caused by COVID-19 in and outside Kigali City.