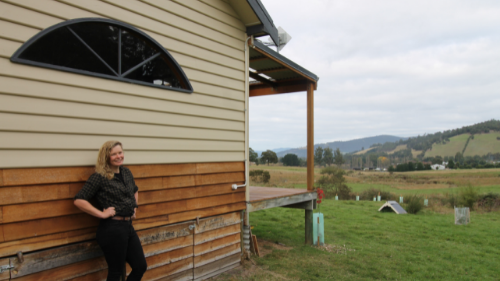 Interview by Molly Kendall of Coop Fed
This month Molly was lucky enough to visit the beautiful Huon Valley of Tasmania to interview Eva Herrmann, a young woman who has built her own house with her own two hands using hardware salvaged from her workplace, Resource Work Co-operative.
In this feature:
Coming to the Co-op
Decision making – behind the scenes
Stability and resilience in worker co-ops
Resource Work Co-op was formed in 1993 by a handful of community members who were keen to reduce waste in the local landfill, salvage resources and make them available to the public.  They founded the Co-op with the mission to reduce waste provide employment and better educate the community about reducing waste.  The Co-op has grown from there to employ 31 workers and, as well as running the Tip Shop, is engaged in diverse activities including urban salvage on building sites, "deconstruction" of entire buildings, scrap and e-waste processing and community events including a re-use art exhibition and in-school creative re-use program.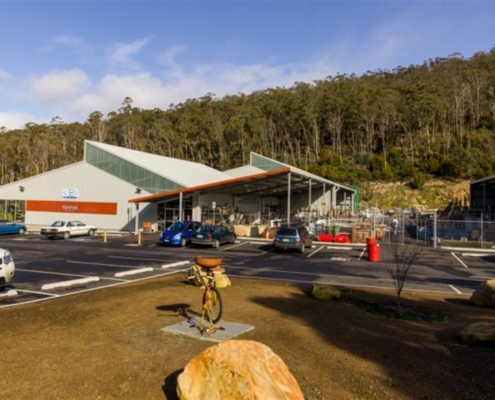 Please tell us a little bit about how and why you started working at the co-op.
Eva: I came to Resource when I was 22 years old. I had finished Uni and I was working at a swanky restaurant on the Hobart waterfront. For me, I felt I was just lining the pockets of the wealthy owners.
When I went to the job interview for the Tip Shop, I remember saying "I can't think of anything better than being waste deep in rubbish" and I think that went well, coz they gave me the job! I was so excited and none of my workmates at the restaurant understood why I was so excited.
I was happy to go into a job that was making things a little bit better rather than a little bit worse.
I'm 34 now so I've been at Resource for 12 years. At our Co-op once you have done 10 years' service you get what's called "wizard status" which gives you all sorts of extra perks to acknowledge your long service, plus, everyone gets to call you a wizard!
Can you please take us behind the scenes of a workers co-op by explaining how decisions are made?
Sure! We have 31 workers and all of those workers are members of the Co-op. We have monthly meetings, and we use consensus-based decision making. We're all about equality and a flat structure. Consensus makes sure everyone in the group can support a decision or at least live with a decision.
What everyone will be asking is "how can that possibly work?"
Haha, yes, we hear that a lot! Sure, it's a more time-consuming model. On the upside, exploring issues thoroughly stops us from making rash choices. It makes us inform ourselves more fully before we make a choice, which is sometimes not available to other businesses who just have one person at the top trying to decide. I think our structure has made us super resilient and robust in the face of change.
Plus, not everyone is involved in every decision, different decisions are delegated to managers and the Board, but those decisions are always made transparent to members.
It might seem impossible for 31 people to agree on things, it really does happen and it actually works well! I think people are cooperative at heart, so practicing that decision making is really rewarding.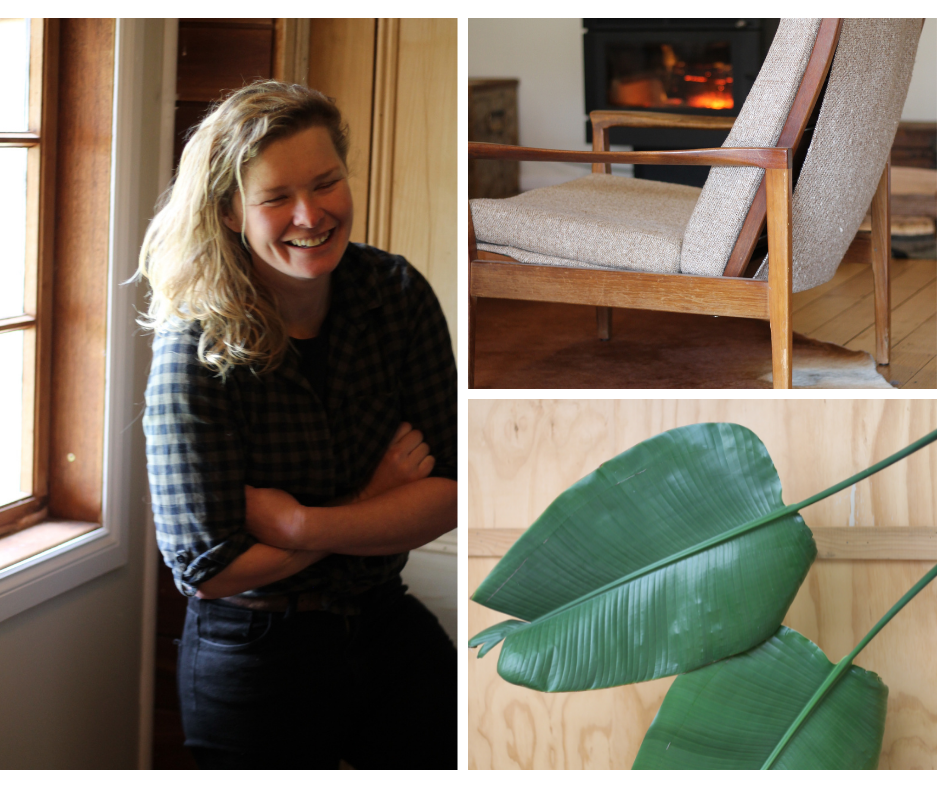 Can you tell us why you have so many long-term workers at your Co-op?
The Co-op is almost 30 years old and it's been enormously stable, so that means we've got workers who have been working with us since the very beginning. My dear friend Richard was one of the founding fathers and he still works on the ground, salvaging, collecting people's treasures. Richard often reflects that when he started at the Co-op his parents were concerned that he should get a more stable profession, like a teacher or plumber. But he says all his friends who have gone into those professions have had less stability than he has had working at the Co-op.
What keeps you coming back?
This might be a really dorky way of looking at things but I really appreciate a simple task done well, and I think our co-operative really encapsulates that. It's a pretty simple concept of reducing community waste and providing resources, but I think we do that really well and for me, that's really satisfying. I think often, human beings are dazzled by complexity and dynamism, but for me, I really take a lot of pride in doing simple things really well and that keeps me coming back.
On a day-to-day basis, it's working with people who are my family now, I love to work with my friends, they bring me much joy.
What have been the hard moments?
Our Co-op has faced a lot of disasters, we've had a few fires, a major flood and a couple of times we've run close to the wire in terms of making ends meet and have had to pull things together quickly, so we don't go under.
So many things have happened, but nothing has stopped us yet and I sometimes wonder, what would it actually take to stop us?
I remember when we flooded the shop was three inches deep in mud after the water had drained away and I just thought, "How are we going to clean this all up?" But, you know, many hands, and many hopeful hearts, and there you have it!
What personal qualities help you to become a long-termer in a workers co-op?
Well, it helps to be a cooperative person.  You need to have enough patience to listen to people and value them even if their view is not the same as yours.  It is good for people who appreciate stability and community.  I know that the Co-op can count on me and I can count on the Co-op. It is good for loyal people who are willing to invest in the long term with their hard work and dedication and I think the Co-op gives back to those people.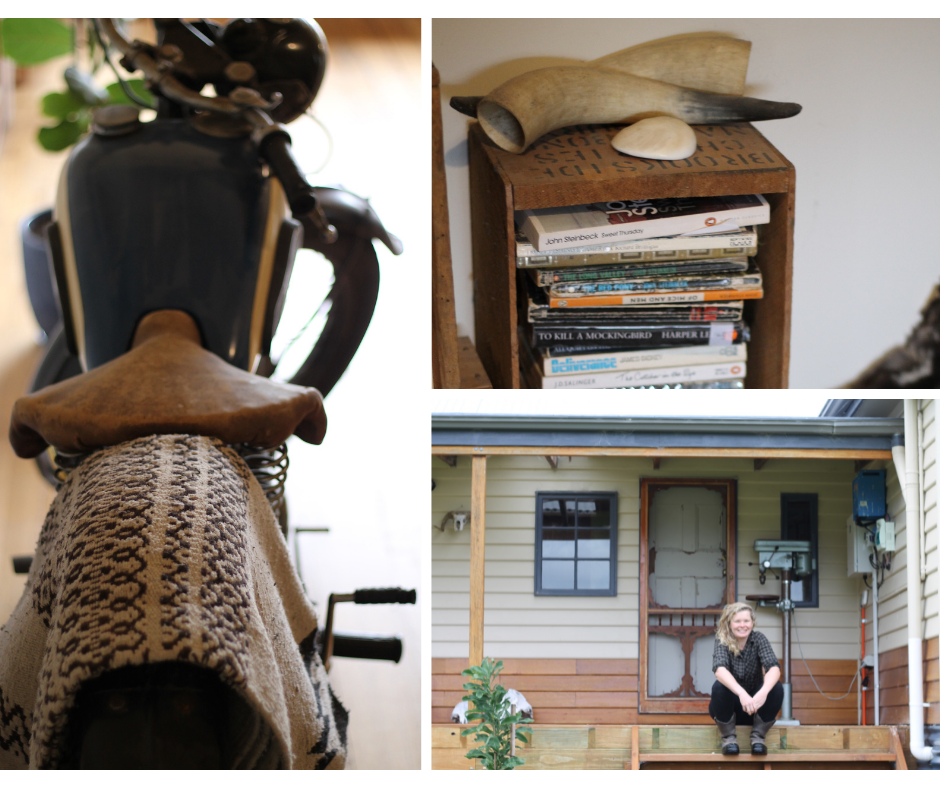 Can you tell us about some special moments you've had working at the Co-op?
There have been lots of moments of joy for me, I think of salvaging on my own on the tip face on freezing mornings in the middle of winter when it's all fog, and I've got my gas mask on and I can just pretend I'm the last person on earth, I love that feeling.
I'm appreciative for the human moments that we all have together while finding treasures in things that the rest of the world have deemed to be valueless, we have dug out the value again.
Eva, we are sitting here in a home you built yourself! Can you tell us how that happened?
I have always dreamt of building my own home and working at the co-op provided me with the skills I needed plus the treasure! All the doors, windows, floorboards, and furnishings are salvaged from landfill. With the help of my gorgeous Dad, Wally and my partner, Gene, the build took me two years and I finished in 2017. Everyone at work helped by putting building materials aside, piling gear into my locker and carrying heavy things to my Ute. There are a lot of builders at Resource and they all gave me lots of encouragement.