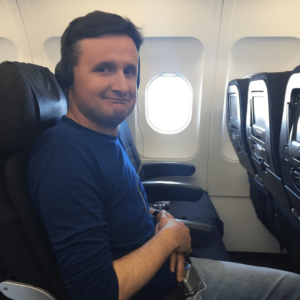 When Tony Rogic went to work for the Plumbers' Supply Co-operative (PSC) he came from the hard and fast corporate world. Little did Tony realise that he would come to be the number one guy to explain the benefit of co-operatives, both to mates at a BBQ as well as to potential members (plumbers).
Tony spent 16 years at PSC including over four years as CEO until a diagnosis of aggressive Multiple Sclerosis forced him to step down in June 2020. He also has a special connection to The Co-op Federation. Tony served on our Board for over 6 years and as Chair for 3.
Tony now spends most of his time at home with his wife and two young children. We recently visited him and were inspired to hear his reflections on a career in co-operatives.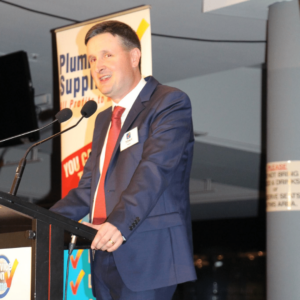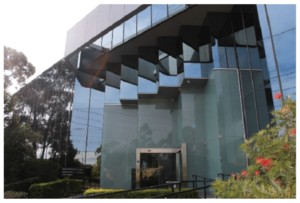 So, what is the Plumbers' Supplies Co-op?
Tony: The way I explain it, we sell plumbing gear to plumbers, full stop. Just like Reece, just like Tradelink, no different, except when you buy from Plumbers' Supplies, every dollar you spend, earns you money forever, as long as you're a member.
PSC was formed in Sydney in 1955, making it one of the oldest continuing Co-ops in Australia. It got started because WWII meant plumbing equipment was hard to come by. The Master's Plumbers Association of NSW decided to form The Plumbers' Supplies Co-op to secure the equipment they needed.
That same bulk-buy and membership structure continues today but on a much larger scale. Today PSC comprises five thousand members and has 280 directly employed staff. They operate a network of more than 30 trade outlets across NSW, Vic and Qld with an annual turnover upwards of $120 million.
Tony calculates that the PSC returns about $45 million dollars in shares to its members over a 10-year period.
Tony's Early Days
When I came to Plumbers' Supplies for the job interview, the recruiter gave me two things and he said "read these and I'll come back in 10 minutes". It was an Annual Report and a little booklet called Know Your Co-op. I read those two things and immediately it clicked, I connected the dots and it made complete sense to me. I remember telling the recruiter, "How good is this?"
The problem was, (and it's still a problem today) if I asked 50 different people "What's a co-op?" I get 50 completely different answers.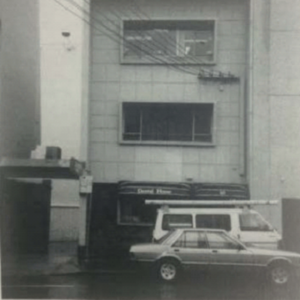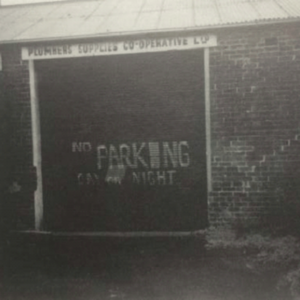 Explaining the Co-op
As General Manager of Sales, Tony's challenge then became explaining the benefits of the Co-op to plumbers. He wanted members to be able to tell their mates at a BBQ, and for that, he developed a tried and true approach.
They're plumbers. They're fixing taps and toilets. They're on a job site. They're doing the job. When you see these people, to get their minds around co-operatives, the best approach is to meet them at home, grab a cup of coffee, buy lunch or something so they are in the right frame of mind.
You need to explain that: When you first join, it costs $200 to buy your membership. When they first sign up we tell them, just pay your bill on time, forget about your shares stuff. Then I would go and see them in 2 years or 3 years, then suddenly that $200 membership share has grown to thousands and you have something to talk about.
The acronym they developed to explain the three main financial benefits of membership was S.R.D.
S= Settlement discounts (2.5% discount on all bills that are paid on time)
R= Rebates
D= Dividends
Settlement is a benefit on the spot, whereas rebates and dividend cheques are calculated and distributed to members annually. Members have the option of reinvesting their rebates and dividends to buy more shares, which builds a valuable nest egg for their retirement.
During the GFC (Global Financial Crisis), times were tough, and we would get a lot of calls from members wanting to cash in their Plumbers' shares, but it's not like the stock market, we want you to be there for your working life. The idea is you pull out your shares when you retire.
People used to be in love with their superannuation, and prior to the GFC plumbers sometimes wanted to move their shares over to super. What happened after the GFC is super funds took a dive, some people remember it, we all lost our superannuation, but Plumbers' shares did not lose a cent. So, people understood then, it was like a second super fund, but better. It wasn't until 2019 until we started to get lots of calls again. It's the same situation. If I got a call I'd say, look at your superannuation, look what it's doing and look at your Plumbers' shares, see what they're doing.
Other Member Benefits
Tony explained that: Plumbers' had overseas conferences every two years for members (before Covid). I really looked forward to that because they were fun. The annual trade shows have been going on for decades, they're great, and that night is free and 15 hundred+ plumbers would rock up. Now trade shows are held in Sydney, Melbourne and the Gold Coast. They are a great benefit to members.