By Sarah Louise Fairburn, Brand and Sales Director, L J Fairburn & Son Limited
L J Fairburn & Son Limited are proud suppliers of over 17 million eggs each week to the country's major retailers. Over the generations our farming enterprise has grown and developed significantly, tackling uncertainty and ultimately thriving in some of the most challenging markets.
In 2012, we went through a significant transformation when we moved all our production away from the middleman and started to approach and deal directly with the UK's major retailers. It was thanks to a new relationship that our company had established with Sainsbury's and in particular Judith Batchelar, that brought Farm Africa into our lives.
Our journey with Farm Africa
Our journey with Farm Africa began back in 2014 when my husband Daniel pulled together a group including members of the Fairburn's team and some of our key suppliers to climb Mount Kilimanjaro. He was completely captivated by the whole experience and was drawn to both the practical and sustainable approaches that Farm Africa work towards, supporting farmers to feed themselves and their wider communities.
Compelled to do more and to keep up the momentum, Daniel also successfully completed two marathons in two days in the Sahara Desert in October 2018. In total he had raised over £70,000 for the charity.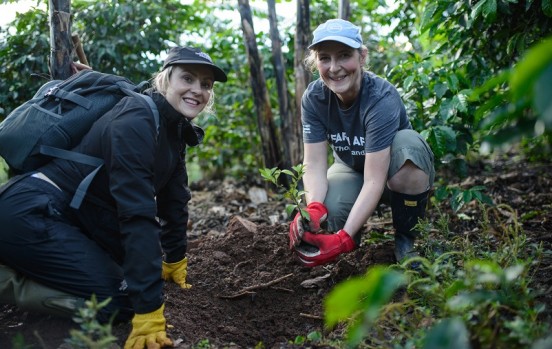 Earlier this year, I was approached by Farm Africa to travel to Uganda on a challenge to plant 1,000 trees alongside other successful female leaders from the food industry. Inspired by Daniel's challenge, an interest in gaining a greater understanding of African farming practices, and perhaps some natural competitiveness, I accepted.
I have to say I am absolutely delighted that I did. Not only did I have the privilege of undertaking this significant challenge with the most inspirational and beautiful human beings imaginable, but we experienced people, places and situations that have touched my heart and mind for a lifetime.
The challenge
The Thousand Trees Challenge itself on the surface didn't appear too onerous. We were all strong females with a track record of success derived from good old-fashioned hard work and dedication. The reality however upon arrival to our first Ugandan farm, was digging holes in dense vegetation and rough mountainous terrain using the traditional African farmers' tool of choice, the hoe, was far from easy and left us way out of our comfort zone.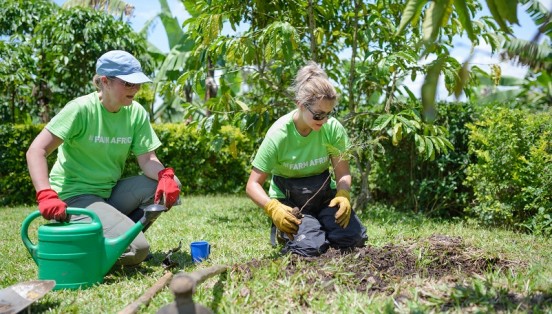 It soon became apparent how resilient and hard working the female coffee farmers were. Our challenge was their daily reality.
Something that hit home very early on was that planting 1,000 trees to raise money to support these communities was just one facet to Farm Africa's overarching goal. By planting the trees, soil quality on the farms we supported would be enhanced, coffee plants would be shaded from the intense sunlight to develop increased yields and the fruit trees we planted would feed the farmers' families and provide an additional source of income.
Farm Africa goes further than planting trees, supporting farmers by offering them training and teaching sustainable farming methodology and business acumen. Job opportunities are created, societies are enriched, and the cycle that drives poverty is starting to be eradicated.
Female farmers
The people that particularly resonated with me, and my fellow teammates, were the female farmers, many of them mums like me, who do most of the work. The greater significance of having female food industry leaders working alongside the Ugandan female farmers trying to make a difference was huge.
I cannot honestly pinpoint one female farmer that inspired me more than another. I was amazed by how confident these women were in promoting their farms within their local communities and I loved seeing them capitalise on our presence.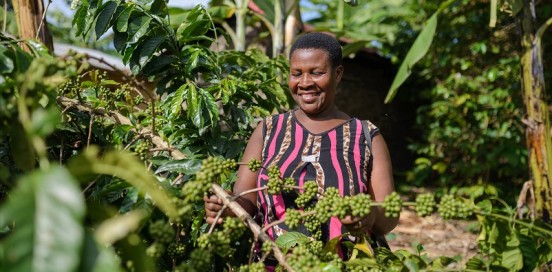 Farm Africa's project work is incredible. It is educating farmers in best practice, increasing job opportunities by growing farms that will need labour and grow the most valuable thing – FOOD.
I love how they help form female farming cooperatives as it's women who generally carry out the lion's share of the workload and have children to care for. Historically, men would receive all the income from the hard work of these women and this wasn't always spent sustainably. Now with Farm Africa's help, the female cooperatives get paid jointly in a fund that is then spent on education for their children, clothes and healthcare.
Through the generosity of donors, I raised over £16,000 with the Thousand Trees Challenge team collectively raising over £60,000. The experience has changed my life. I hope that my four children will also continue to do everything in their power to drive positive change for the African farming communities.

Part of this work in Kanungu is made possible by matched funding from the UK government for Farm Africa's Coffee is Life UK Aid Match appeal – thank you to anyone who donated or raised funds for this appeal, believe me it is really making a difference and changing lives for the better.