The Conventus project has moved into the development of the learning system which combines material from the SKILLS project with new material into five training modules. At the project meeting at the Coompanion office in Skaraborg, Sweden, some of the material was tested.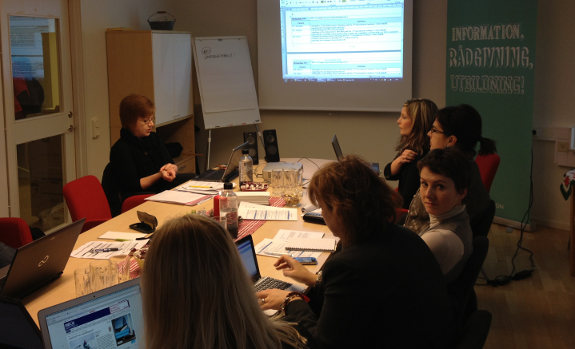 A shot of the meeting room at the Coompanion office in Skaraborg
The attendees, which included cooperative members from different European countries also went on different study visits to various cooperatives in the Skaraborg region. The visit to SkaraborgsAssistans even made the local paper!
SkaraborgsAssistans became the Cooperative of the Year in Skaraborg 2009. The prize is awarded by Coompanion business advice to groups that want to realize their ideas together. The motivation was as follows:
SkaraborgsAssistans demonstrates the potential of doing business in which human benefits are a priority and where integrity, freedom of choice and self-determination are a matter of course. SkaraborgsAssistans shows that cooperative companies increase people's opportunities to participate in work and in decision making.
Götene Företagskooperativ was another cooperative that was visited. It is a social cooperative located in the small town of Götene. Götene has a population of about 13000 and you will find it in the south-west of Sweden on the southern shore of lake Vänern near the nature reserve of Kinnekulle.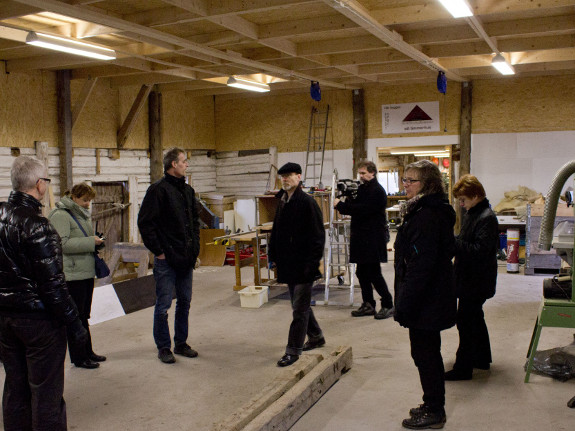 Götene Företagskooperativ became the Cooperative of the Year in Skaraborg 2012. The motivation was as follows: Götene Företagskooperativ runs a commercial establishment in a harmony with social values where everyone has a common arena and where everyone's knowledge and experiences are important. A concept where the weak win the force through joint engagement in their idea under the basic principle that there shall be a place for all people in a company, that everyone is needed.
The cooperative LeraMedmera is a handicraft cooperative formed by a number of individual artisans working with clay and ceramics. They have joint marketing and share the costs of their venue which is located on the former Rörstrand Factory area in Lidköping. The cooperative is also working on assignments for other artists who want to produce their work in a larger edition.
Finally, the social cooperative Bruk för Alla is something you never think you would find in a small place like Falköping Sweden. But there is a place, a cooperative that helps people, who are or have been unemployed for long periods of time, or they have some dysfunction that they have acquired or are born with. Bruk för Alla cooperative gives hope back to people, people whom society has discarded. Bruk för Alla thinks that everyone can do and wants to do something with their lives. Everyone is important!
Bruk för Alla gives people ways to be productive, be a part of the society. It has been running since 1995 for the good cause. They do almost everything. The Bruk för Alla cooperative has jobs in ICT and different kinds of manufacture (handmade items like decorations, furniture etc.). Many people could learn a lot from them and everyone would know that they can do something.
The Conventus project partners participating in the meeting expressed their satisfaction with the meeting and the project progresses.