Finding someone to look after your pet can be a struggle. It's why Deb Webber created Pet Cloud, to connect pet owners to carers across the country, and make an impact along the way, writes Maggie Coggan in this month's Spotlight on social enterprise.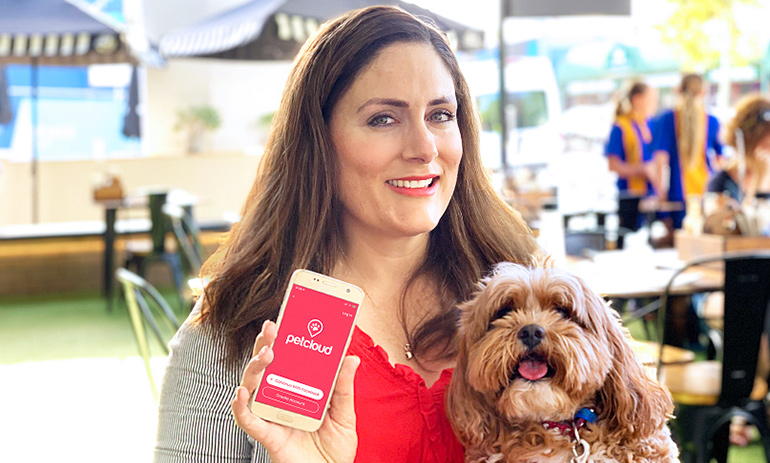 Regularly travelling interstate for work meant that Deb Webber was constantly searching for someone to look after her beloved dog, Charlie.
After becoming frustrated with the lack of local pet-minding options, and having had a bad experience with a boarding kennel, she decided to ask other pet owners if they were having the same difficulty.
"When I asked people what they did with their pet when they went on holidays, they would tell me that they either took their pet with them or they just didn't go," Webber told Pro Bono News.
"It really bothered me that there were no great options for pet owners when they went away. I realised that either I did something about it, or things just stayed the same."
Her passion to see this change was a driving force behind the Pet Cloud project, with Webber even selling her home to fund it.
"[Selling my home to] launch the business…was a calculated risk, because I knew that the need was there and it was an issue that really bothered me," she said.
The Brisbane-based business launched in 2015 with a base of 5,000 Facebook followers, but these days that number is a lot bigger.
The platform's now used by 120,000 people all over Australia looking for someone to mind their pet while they go on holiday. It's also proved useful for people who need help taking care of their pets if they're injured or need to go into hospital. Those on the National Disability Insurance Scheme have also found it incredibly useful.
Partnering for success
Early on, Pet Cloud teamed up with RSPCA Queensland, who came on as a part-owner and endorsed the platform.
Webber said that the partnership had been incredibly beneficial to both parties, with Pet Cloud gaining financial backing and expertise to help make the platform safe for users.
"When I first launched Pet Cloud, the RSPCA was desperately trying to reduce the rate of animal abandonment at holiday time… because the number of pets left at their door every time Easter or Christmas rolled around was really bad," she said.
"They were really keen to create a trusted and affordable pet care service, so they came on as a part-owner and endorsed the platform."
The two organisations have worked together to create an RSPCA accredited pet sitting course that sitters are encouraged to undertake when they register for Pet Cloud (the course costs money). And if Pet Cloud users run into trouble or need a question answered about their pet or the pet they are looking after, they are connected with the RSPCA's national call centre.
"We pay the charity a fee…which then goes back into the operation of the RSPCA supporting animal welfare," she said.
"It's been a really excellent and healthy partnership."
To use the site, pet owners search by location and for the service they are looking for, ranging from pet sitting to dog walking, animal grooming and pet taxis.
It's free to create a listing and pet owners get to meet-up with the potential sitter before confirming the booking. Payment is transferred to the sitter 24 hours after the service has been delivered, and Pet Cloud takes a 15 per cent commission.
And in the last couple of months, Pet Cloud has introduced a $1 donation feature on the website, enabling pet owners to make a donation to RSPCA during booking.
"The funds created from this are fairly low, but they are coming through nearly every time makes a booking," Webber said.
The hidden human impacts
While Pet Cloud started out as a way of providing more, and better, care for animals, the human impact of the service has also been apparent.
Webber said that some of the people who have received help through RSPCA Queensland's Pets in Crisis program, which houses pets for a low price or for free while a person escaping violence finds stable accommodation, have then joined Pet Cloud as pet sitters.
"They are just so grateful to the people that helped them and to the RSPCA that they actually wanted to become a pet sitter with Pet Cloud…to help other people in their community with pets," she explained.
She said it was also a way for these vulnerable community members to earn an income, safely.
"Due to safety reasons[some of], these people are no longer able to hold a corporate job where they can be tracked by their ex-partners. Pet Cloud provides an income while they lay low," she said.
"It's also a time when they might not be able to handle human relationships and interactions, so this is a low stress option that gives them a little bit of money for food and basic needs."
Opportunities through the challenges
Like many businesses, Pet Cloud has had to pivot their focus and operations during COVID, but this is something that Webber said has forced the business to rethink how it operates sustainably.
"So traditionally we were a business fueled by travel. Of course, that all stopped during COVID," she said.
"We're now taking more of a local focus, seeing how we can help people in our community, offering our services to people who aren't necessarily travelling, but are going into hospital, for example.
"I think with every crisis is an opportunity. What it's done is it's allowed everyone to take a look at their business and work out how it can be sustainable."
She said that while the business wasn't profitable yet, it was edging closer and closer towards it.
"This refining process we went through in COVID has brought us even closer to the point of where we will be profitable," she said.
Find out more about Pet Cloud here. 
With thanks to Maggie Coggan who is a journalist at Pro Bono News covering the social sector.