he Pure and Just Company, trading under the Yvaya Farm brand of tropical dried fruit, adds value to Ghana's agribusiness sector
A Stanford University graduate, Yvette Tetteh is the co-founder and ceo of the Pure and Just Company, a rural-urban business transforming fresh fruit into natural, tropical dried fruit products. Yvette brings analytical thinking and academic rigour to team leadership and business development in the business which, founded in 2018, today employs 18 local people. In 5 years she has raised over US$170k in various personal and business awards and grants. Born and raised internationally, Yvette moved to her native Ghana in 2015. Her passion is to catalyse African potential in order to help create a world where all Africans have the economic capacity to achieve their dreams.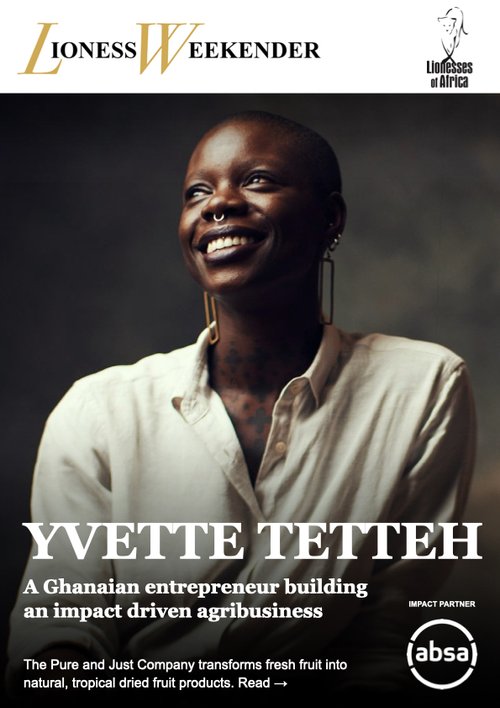 Lioness Weekender learned more about Yvette Tetteh's ambitions to build an impact driven agribusiness in Ghana that creates new local production jobs and stimulates revenue for up to 100 regional farmers.
What does your company do?
At Pure and Just Co. we facilitate rural-urban business by linking rural farm produce to local and foreign urban retail opportunities. Specifically, we transform fresh fruit into natural, tropical dried fruit products (mango, pineapple, pawpaw, and banana.) Our work creates sustainable jobs for youth, increases farmer incomes, and stimulates economic growth by enhancing an under-developed local value-added agribusiness sector. Our circular climate-smart model increases farmer income by 40% and reduces spoilage and post-harvest losses by 50% on average.
What inspired you to start your company?
We believe in the unique right of every individual to self-determination in a physical environment that is healthy, a political environment that is safe, and a community environment that is nourishing. We want to participate in creating a world where human development is in line with the protection of the environment; and where every person – and, specifically, every African – has the economic means to pursue their dreams. We work to enable people to support themselves, protect themselves against climate change, and to explore their passions and potential. We believe our straightforward, identity-oriented model can be replicated across sub-Saharan Africa to financially empower individuals and communities and positively inform land practices. Our work will be part of creating the financial foundation for individuals to choose how they want to lead their lives. Our work must break down class barriers to personal and community development.
What makes your business, service or product special?
In an environment of fast-paced tech start-ups and extractive industry, our innovation is in collaborative development and sustainable growth that lifts people sustainable out of poverty for the long term. We are not reinventing the wheel, but refining a human and environment oriented social business model that can be replicated across sub-Saharan Africa. This means defining and commiting to a living wage for workers, setting up climate-positive industry in a rural area typically bypassed by development projects and business, and increasing access to technology and information. Setting up an export-oriented facility will provide the mechanism for the first two goals, for the latter we will work with Farmerline to equip farmers with access to information, financing, and logistics via an agri-tech infrastructure catered to their specific needs and context. The key will be transferring data that is readily available in urban centres to farmers in rural agricultural areas.
Tell us a little about your team
We are a Ghanaian, Black-owned business. We are women-led and youth-driven. From 2017 to 2022 we increased our workforce from 3 to 18–14 of whom are women, all of whom under 35. Our team processes and packages fresh fruit into our dried fruit products.
Share a little about your entrepreneurial journey. And, do you come from an entrepreneurial background?
I am a Ghanaian woman who has had the privilege to live in several countries and receive an education. Growing up outside familiar norms of family, culture, and race have made me empathetic to those marginalised by mainstream society and business. I have reflected on the cultural and economic disparities between different regions. The dissonance of my class privilege with my racial and gender identities has given me a personal understanding of these differences and inequities. My agency as an entrepreneur drives my self-determination and defines me as a creative and compassionate person dedicated to improving the local community. I am committed to a dualist mission of mutual development for my communities and myself, not simply because it is morally just, but also because my own sense of self is inextricably entwined within them. The more I work to uplift Ghanaians and Black women the more nurturing the environment for me and people like me to live as autonomous, successful people.
What are your future plans and aspirations for your company?
In 2022, we are scaling our capacity to supply natural food companies globally. The global market size for dried fruit is approximately $7 billion and the European market for tropical dried fruit alone is increasing with an annual growth rate of 5-7%. We are looking for $1m to finance a 1000sqm export-oriented facility capable of generating $1.8m in annual revenue with a production capacity of 240 tonnes of dried fruit a year. This new facility, nestled in an agricultural community in Ghana's fertile Eastern Region, will create 52 new local production jobs and stimulate revenue for up to 100 regional farmers.
What gives you the most satisfaction being an entrepreneur?
I'm writing from a small apartment in beautiful, sunny Kreuzberg. I'm here working remotely, meeting potential business clients, and taking in the fresh (cold) European Spring air. It's been lovely. It's also been really moving and affirming to look at the business from so far away; the perspective of a vantage point a continent away is somehow more clear. Working remotely has shown me how well our internal systems are working, how capable and independent are young management staff have become (shout out to Eben, Alice, and Henrietta!), and how coordinated we are as a team. Amongst the myriad of everyday challenges of the food / agric / agribusiness space, being able to see the outcome of your efforts in such a tangible well is always a beautiful experience.
What's the biggest piece of advice you can give to other women looking to start-up?
Starting and running a business requires an immense amount of physical, emotional, and spiritual energy – try your best to be gentle with yourself, commit to (self) care, and allow yourself time (including for rest.) The journey is long and doesn't get finished, so find your pace and look after yourself on the way.
To find out more about Yvette's story and the Pure and Just Food brand at Yvaya Farm in Ghana, send an email to: sales@pureandjustfood.com or visit the company's website and social media pages:
WEBSITE | FACEBOOK | TWITTER | INSTAGRAM | YOUTUBE